A chance meeting in China 6 years ago with Israelis made businessman Benjamin Peng change his attitude toward Israel & tied his fate to it, as he went on to found Yafo Capital, which connects Chinese investors with Israeli start-ups.
By Yael Weltzer
Over 100 Chinese business-people arrived in Israel to take part in the Go4Israel conference, whose goal was to encourage investments and cooperation between Israeli investors and those from emerging markets. The conference, organized by the Cukierman Investment House and the private equity fund Catalyst, was attended, among others, by a dynamic young businessman named Benjamin Peng. Peng walked the halls of the Tel Aviv Hilton wearing a yarmulke and a smile. "I'm a Chinese Zionist," he declared without blinking.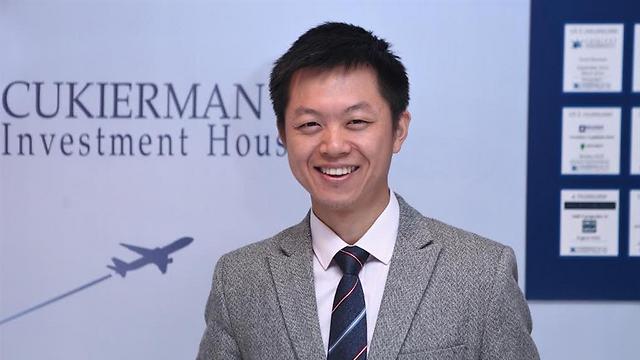 Benjamin Peng. Feels at home in Israel. – Photo: Dror Sithakol
For years, Peng didn't especially like Israel, he tells. But a chance meeting with three Israel women who were on a post-IDF-service trip abroad changed his attitude.
Five years ago he decided to become a Christian, a move that brought him even closer to Israel. Later, he changed his given name to Benjamin. Three years ago Peng came to Israel for the first time, and has since visited seven times, and established the Chinese investment firm Yafo Capital ("Yafo" is the Hebrew name of the city of Jaffa) along with two Chinese partners. He even proposed to his girlfriend at the Western Wall in Jerusalem.
"I founded Yafo Capital with my two partners, Jing Jiang, who later took the name Boaz, and Sean Jiang. Our investment firm sits in Shanghai, and aims to invest in Israeli technologies and connect Chinese investors with start-ups. Jaffa is a historic place, and its name is an important link abroad; Jaffa will become an attraction for Chinese people worldwide in the future," he says.
"Even before I founded Yafo Capital, as an adviser to Chinese investors doing deals with Israeli companies, I suggested that my partners, who didn't know Israel, should visit it. The visited, and found Israel to be a fascinating place for business and trips. These days, our investment firm has joined the Cukierman Investment House and we created Cukierman-Yafo Capital, which locates Chinese investors for Israeli companies, with an emphasis on the high-tech and biomed fields."
"In addition, I founded a non-profit, Israel Plane, which is meant to help people get to know Israel and the Middle East and promote peace in the region. The organization's goal is to improve Israel's image in China. China has a huge number of people who take in news about the Israeli-Palestinian conflict and the situation in the region. Last year I also held an explanatory conference regarding Protective Edge."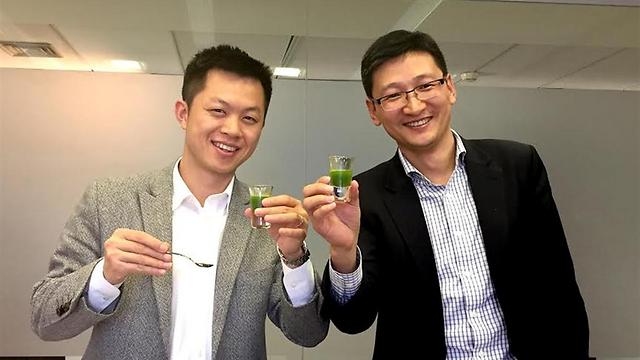 Peng with one of his Yafo Capital partners, Sean Jiang. – Photo: Dror Sithakol
When Peng is asked about what he likes about Israel, he answers without hesitation, "I feel at home here, mostly when I visits Jerusalem." He claims that "I don't have a logical explanation for it. I only remember that when I got here for the first time, I felt something special. Apparently it's my fate. It's why I decided to propose to my wife in Jerusalem, and the story was even published in the English-language Chinese newspaper The China Daily. I also like the people in Israel. They've never refused to assist me or answer a question, even strangers on the street."
What characterizes the Chinese economic market?
"The Chinese market is rebuilding right now. It grew very fast, like the human population. In China they understand that if you don't want the market to collapse, now is the time to slow growth, make it slower and more deliberate here."
"In general, Chinese society as a whole is in the process of changing. There is more cooperation with the world, more information is flowing to it, from Israel among others. Israel is a small country, but it has a lot to offer China technologically. The big companies in China have a lot of money to invest, and we're looking for the Jewish mind in the Chinese market. The similarity between us is that both peoples are good with interpersonal relations."
What are the differences between us?
"Mostly character differences. We're not used to expressing emotions, we're more closed, conservative, even though that's also in the process of changing due to the global age. Israelis are more open with their feelings. Chinese people are less direct and aggressive in business than Israelis. Sometimes it's good not to tell the whole truth."
The line between politeness of that sort and lying is thin.
"You could call it nice lies. In China, there are many rules about respect you need to give other people. Even if you don't like someone, you need to smile at them. Play the game. At home and with friends, we open up and do talk about feelings."
This time, you arrived in Israel during a terror wave.
"I was in Jerusalem and wasn't afraid. I told myself that if god protects Israel, he'll protect me too."
View original Ynet publication at:
http://www.ynetnews.com/articles/0,7340,L-4721181,00.html