With some returning for 1st time, survivors from around the globe arrive at former death camp to pay respect to their relatives, loved ones & the millions of other Jews murdered by the Nazis.
News Agencies
Auschwitz survivors have made emotional private visits to the former Nazi death camp, a day before official commemorations marking the 70th anniversary of its liberation.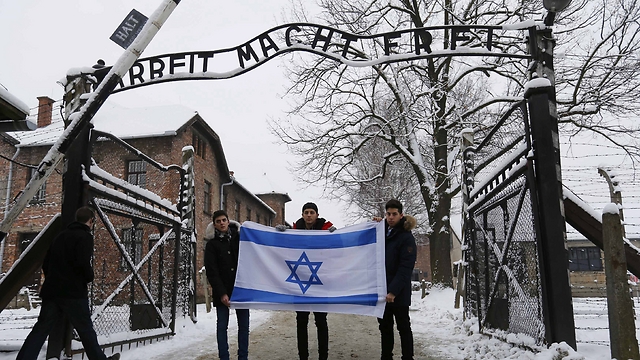 Visitors hold Israeli flag at entrance of Auschwitz. – Photo: Reuters
Coming from around the world, some returning for the first time, the survivors paid homage Monday to relatives murdered by Nazi Germany and the millions of other Jews who were killed in the Holocaust.
Together, several of them said kaddish, the Jewish prayer for the dead, next to the infamous "Arbeit Macht Frei" (work brings freedom) sign at the entrance to the camp. Many expressed shock at the recent killing of four Jews at a kosher supermarket in Paris, saying they fear the world still has not learned the lessons of the Holocaust.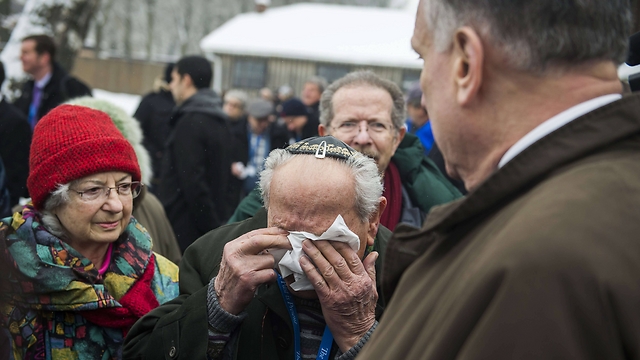 Survivor Mordechai Ronen is overcome with emotion during visit to Auschwitz. – Photo: AFP
Holocaust survivor Mordechai Ronen from the US was overcome by emotion standing next to President of the World Jewish Congress Ronald Lauder as he arrived at the former concentration camp on Monday. Ronen, who was 11 years old when he arrived at the Nazi death camp, lost his mother and sister there. Survivors and heads of state will attend a ceremony marking the 70th anniversary of the liberation of the camp by Soviet troops on January 27, 1945.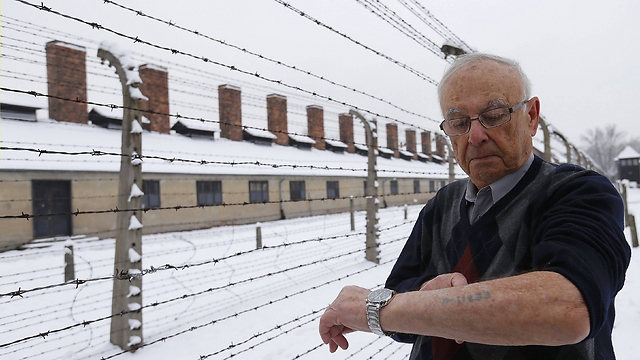 Survivor Jack Rosenthal from the US displays his prisoner number. – Photo: Reuters
Survivor Jack Rosenthal stood near the barbed wire fence of the former concentration camp, which was the site of the mot murders recorded during the Holocaust, and shows the prisoner number that was forever etched into his skin.
The survivors will also attend ceremonies Tuesday, exactly 70 years after the Soviet army liberated the camp.
View original Ynet publication at: http://www.ynetnews.com/articles/0,7340,L-4619376,00.html