High school students from Kiryat Shmona, working in the field of synthetic biology, will present their project at the iGEM competition this fall at MIT.
By Goel Beno
Twenty-three 11th grade students from the Darca Danciger high school in Kiryat Shmona will represent Israel at an international science competition in the US in September.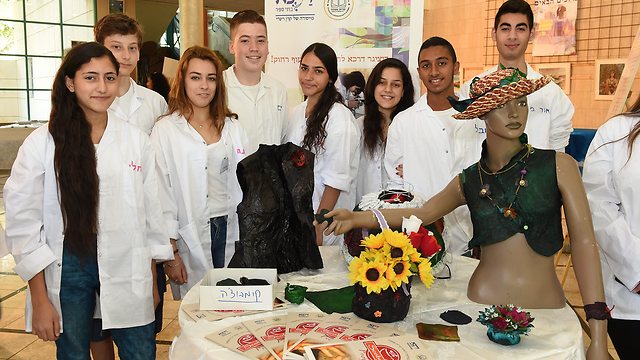 Students from the biotechnology program at the Darca Danciger high school presenting one of their developments – Photo: Efi Sharir
The 2015 iGEM (International Genetically Engineered Machine) competition, an annual contest founded by MIT (Massachusetts Institute of Technology), has only recently been opened to high school students.
The Kiryat Shmona students' development is in the field of synthetic biology, which combines biology and engineering, using live organisms to develop biological devices and system for useful purposes.
Researchers from the Technion, the Tel-Hai Academic College and MIGAL – Galilee Research Institute, are accompanying the students and the school laboratory team as they work on their development project.
This would be the first time Israel will be represented by a high school team
The school was able to raise $60,000 in donations to fund the research, and is now trying to raise an additional $20,000.
School principal Yifah Amit-Sheleir will not reveal the biotechnological development the students will present at the competition, and plans to keep it under wraps until the competition itself.
She did agree to divulge information on other development projects her students worked on, which could provide a hint to their abilities.
One of them is a health drink made with green or black tea, sugar and pieces of Kombucha mushrooms (a symbiotic colony of bacteria and yeast). The drink has antibiotic qualities and could aid in lowering blood pressure, as well as in increasing energy.
"The project we plan on presenting at the competition is slowly taking shape in the laboratory, and students will give up their summer break to complete it," the principal said.
On Wednesday, the school held the first scientific conference for teenagers on synthetic biology, in which 330 excellent students presented different developments they made. Internationally leading researchers also participated in the conference.
View original Yet publication at: http://www.ynetnews.com/articles/0,7340,L-4660604,00.html