If the Arab Knesset members are so worried about becoming citizens of a Palestinian state, they should be working toward integration into, and not separation from, Israel, and listening more to their constituents rather than the voices of Fatah and Hamas.
Renewed talk of land swaps between Israel and a future Palestinian state has left many Israeli Arabs worried about losing their status as citizens of Israel.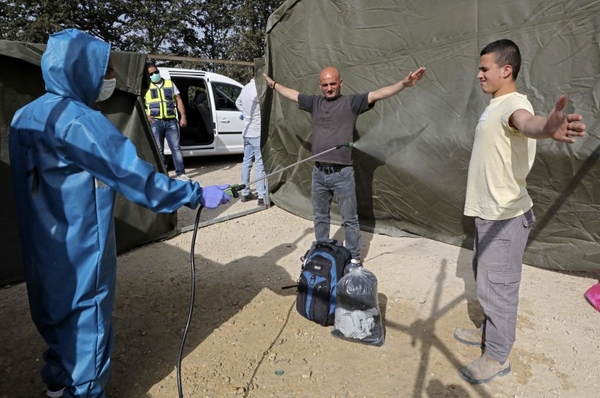 Member of Knesset Ahmed Tibi yells from the Knesset podium. (Image source: Knesset TV YouTube channel)
According to the Israeli daily Ma'ariv, Israel has proposed to the Americans transferring Israeli Arab communities to the Palestinian Authority as part of a land swap that would place Jewish settlements in the West Bank under Israeli sovereignty.
The proposal means that some 300,000 Israeli Arabs would be allowed to stay in their villages in the "triangle" area along the border with the West Bank. However, these citizens would find themselves living under the jurisdiction of a Palestinian state.
The new-old proposal has been strongly rejected by leaders of the Israeli Arabs, who expressed outrage over the idea.
It was hard this week to find even one Israeli Arab who publicly supported the proposal.
"This is an imaginary proposal that relates to the Arabs as if they were chess pieces that could be moved around according to the wish of the players," said Ahmed Tibi, an Arab member of the Knesset.
Another Arab Knesset member, Afu Ighbarriyeh, said, "Citizens of a democratic state are not tools or hostages in the hands of their government."
Both Tibi and Ighbarriyeh are from towns in the triangle area; Taybeh and Umm al-Fahm.
But what the Arab Knesset members are not saying openly is that they do not want to wake up in the morning and discover that they are citizens of a Palestinian state. It is much easier for them to accuse Israel of racism than to admit that they do not want to be part of a Palestinian state.
A public opinion poll conducted by the Arab Center for Applied Social Research in November 2007 found that more than 70% of Israeli Arabs are opposed to any proposal to annex towns and villages in the triangle area to the Palestinian Authority in exchange for the annexation of the settlements to Israel.
Another poll by Professor Sammy Smooha of the University of Haifa showed that three-quarters of Israeli Arabs believe Arab representatives should deal with daily issues and not the Israeli-Palestinian conflict.
The poll also showed that over the past ten years, Israeli Arabs have become more extreme in their views toward Israel and its Jewish majority.
Professor Smooha said that Israeli Arabs are interested in receiving the benefits that the state provides them – stability, democracy, services and so on. The Arab leadership is more critical of Israel than the Arab public, which is "much more pragmatic than their leaders," he explained.
The Knesset has 120 members, 12 of whom are Arabs. Some of the Arab parliamentarians have over the past two decades acted and spoken in a way that has caused damage to the interests of the 1.5 million Arab citizens of Israel.
They are first and foremost responsible for radicalizing a large number of Israeli Arabs and turning them against the state.
These parliamentarians have, in fact, spent more time defending the interests of the Palestinians in the West Bank and Gaza Strip than those of their voters.
A Knesset member who openly identifies with Fatah or Hamas or Hezbollah is responsible for the situation that many Israeli Jews today see Israeli Arabs as a "fifth column" and an "enemy from within."
These Knesset members are fully aware that they would lose most of their privileges under most Arab regimes — the real reason why they are strongly opposed to the latest proposal.
The Palestinians have their own parliament in the West Bank and Gaza Strip. But this parliament, known as the Palestinian Legislative Council, has been paralyzed since Hamas seized control of the Gaza Strip in 2007.
In most Arab countries, parliament members who dare to criticize their rulers often find themselves sitting at home or behind bars.
If the Arab Knesset members are so worried about becoming citizens of a Palestinian state, they should be working toward integration into, and not separation from, Israel. The Arab parliamentarians need to listen more to what their constituents are telling them and not to the voices of Fatah and Hamas.
View original Gatestone Institute publication at: http://www.gatestoneinstitute.org/4119/israeli-arabs-palestinian-state
Khaled Abu Toameh is an Arab Muslim, a veteran award-winning journalist who has been covering Palestinian affairs for nearly three decades. He studied at Hebrew University and began his career as a reporter by working for a PLO-affiliated newspaper in Jerusalem.
Abu Toameh currently works for the international media, serving as the 'eyes and ears' of foreign journalists in the West Bank and Gaza Strip.
Abu Toameh's articles have appeared in numerous newspapers around the world, including The Wall Street Journal, US News & World Report and The Sunday Times of London.
Since 2002 he has been writing on Palestinian affairs for The Jerusalem Post. Abu Toameh has also been working as a producer and consultant for NBC News since 1989.
For more IsraelandStuff articles from Khaled Abu Toameh, visit: https://www.israelandstuff.com/?s=Khaled+Abu+Toameh