A group of Israeli cartoonists frustrated with Israel's ineffectiveness at combatting the hate campaign, gathered on Facebook to post sarcastic caricatures exposing the hypocrisy of BDS supporters.
By Adva Cohen
Israeli diplomacy has been diligently working in recent months to thwart the efforts of the Boycott, Divestment and Sanctions Movement (BDS), and now the country is receiving assistance from an unlikely group: Illustrators.
Caricature by Guy Morad
A new Facebook page recently created by Israeli illustrators seeks to fight the boycott efforts via sarcastic cartoons that paint Israel in a positive light, and unmask its hypocritical detractors. 
After Britain's National Union of Students decided last month to join the BDS movement calling for a boycott of Israel, Asaf Finkelstein, a public relations person specializing in branding, decided that he could no longer bury his head in the sand.
After consulting with his friend, illustrator Uri Fink, they decided to utilize Israel's secret weapon in order to win the hasbara fight: The art of illustration. Along with illustrator Shay Charka and public relations person Yossi Klar, they created a Facebook page called TICP – The Israeli Cartoon Project that brings together the caricatures of illustrators who want to help Israel in its fight against the boycott.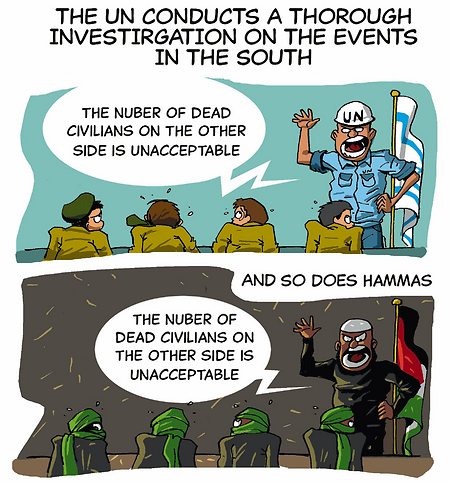 Caricature by Uri Fink
"We felt that there was a huge failure in hasbara and concluded that there is one thing that has not been tried yet – to explain Israel through caricatures. We decided the time for talking is over, it's time for action," said Finkelstein.
Soon word spread, and Israel's best illustrators mobilized for the country's sake. These include: Yaakov Kirschen, Ronnie Gordon, Yaron Lovaton, Yossi Shahar, Shay Charka and Guy Morad, Yedioth Ahronoth's cartoonist.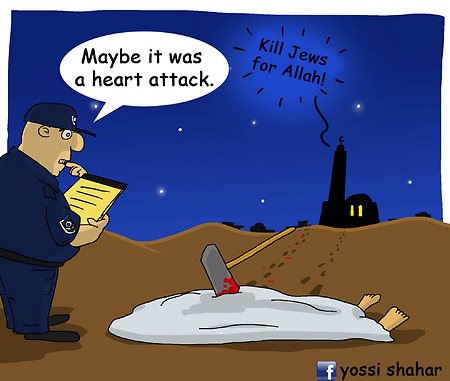 Caricature by Yossi Shahar
To join the illustrators' army, the cartoonist must be a talented illustrator, pro-Israel, funny, and know how to put aside Israeli political disputes.
"The most important rule – no internal politics, no left and no right, no religious and no secular," said Finkelstein. "We want to reach BDS' audience and plant seeds of doubt, balance the picture and explain that the truth is not so absolute."
Almost every day sarcastic caricatures appear on the Facebook page demonstrating the hypocrisy of Israel's detractors and their anti-Semitic motives, in order to help shatter the web of lies they are spreading.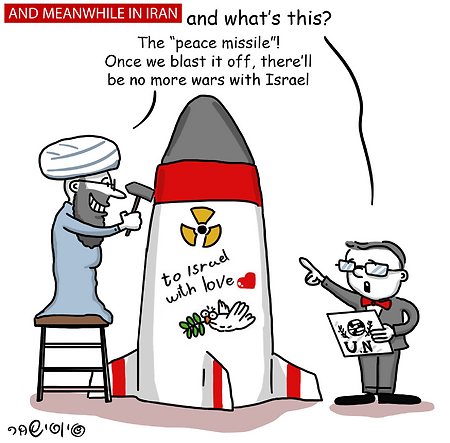 Caricature by Yossi Shahar
The veteran caricaturist Yaacov Kirschen explains the strategy: "Today people do not have time to read. Those who receive a caricature will look at it for a few seconds and will immediately get the message. If you use humor, the reader also laughs, and when someone laughs, he accepts the truth, then he is on my side. We are at war, and we have to fight. This is a caricature war." 
Illustrator Vladik Sandler considers his participation in the project a true mission. "I listen to the international media and and am in shock at the falsifications about us," he said. "Caricatures are a way to fight against it creatively. Caricatures attract people, and if it's done in a smart and elegant way, you can create a new atmosphere that leads to dialogue."
Yossi Klar, who runs the Facebook page, also believes in the power of illustration to bring about a change of consciousness: "One caricature can change the opinion of someone who does not know anything about the conflict. We strive to make them understand our right to live in our country without them trying to kill us."
View original Ynet publication at: http://www.ynetnews.com/articles/0,7340,L-4678819,00.html