UNGA likely to accept biased report on Gaza war, sparking Israeli diplomatic mission to reduce the power of Arab majority voting bloc inside the UN's human rights council.
By Itamar Eichner, Aviel Magnezi
A new diplomatic front has been launched in Israel, meant to do away with the automatic Arab majority in the United Nations Human Rights Council (UNHRC), in light of an impending council vote regarding whether or not to adopt as official the findings of a UN report released Monday on 2014's Operation Protective Edge in Gaza.
The report heard round the world. (Photo: AFP)
The report was ill-received in Israel, where officials said that the UNHRC is inherently slanted against Israel. UN investigators blamed both Israel and Hamas of committing war crimes during the conflict, a claim that Hamas decried as false.
Behind the scene talks with key players in the UNHRC have already begun, but if adopted by the council the report will be passed onto the UN General Assembly, as occurred with the infamous Goldstone Report in wake of a previous Gaza conflict in 2009, or Secretary General Ban Ki-moon will be asked directly to monitor its implementation.
The diplomatic efforts to sway opinion in the UNHRC in Israel's favor will include a public propaganda campaign in the coming days, meant to spread Israel's view that IDF conduct during the war was "according to the highest international standards." This effort is expected to be led on social media.
Meanwhile pro-Israeli groups are organizing a protest to take place outside of UN headquarters next Monday when the report will be discussed by the UNHRC in Geneva before the upcoming vote.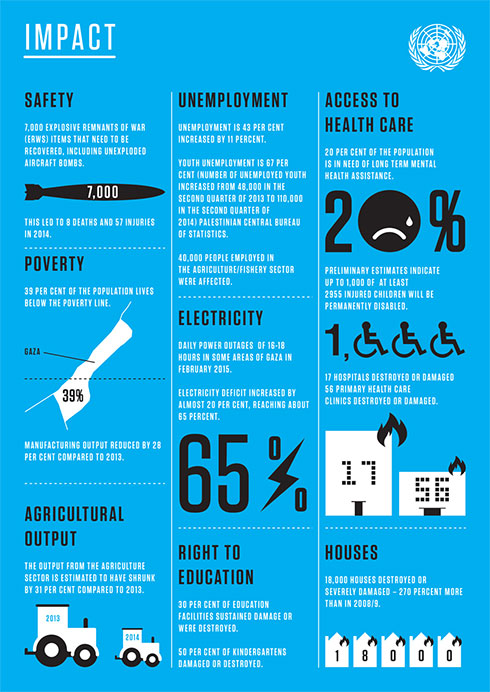 Graphic of statistics included in the UN report.
"There is no indictment of Israel here," said officials in the Foreign Ministry. "They are aware that they don't have enough information for an indictment. What's disturbing is that it puts Israel and Hamas on the same weighing scale. There's no doubt that this harms Israel's image."
Another senior Israel official claimed that it was the policy of disengagement and refusal to cooperate with the investigation leading up to the report that saved the Jewish nation from a much worse outcome.
"They would have reached the same conclusion and maybe even worse if we had cooperated," said the source. "Their investigation does not cross the threshold into criminal investigation and therefore they did not discuss individuals. The entire report stands on chicken legs because they didn't have access to the field."
Prime Minister Benjamin Netanyahu replied to the UN report at a Likud meeting on Monday afternoon saying that the organization that calls itself the Human Rights Council, "does everything besides caring for human rights."
Education Minister Naftali Bennett also had harsh words following the report's release, saying, "This report has blood on its hands because it permits the murder of Jews". Bennett noted that the report "ties our soldiers' hands and prevents them from protecting the people of the south and the entire country."
View original Ynet publication at: http://www.ynetnews.com/articles/0,7340,L-4671698,00.html