The ambitious program includes building a new 80-story tower where the Yedioth Ahronoth HQ is currently located, and in exchange, part of the Ayalon Highway will be covered to create an urban park, depending on approvals given by the planning committee.
By Hila Tsion
Last week the Tel Aviv-Yafo Local Planning and Construction Committee approved a plan to cover over about 15 dunams of the Ayalon highway's lanes so that an urban city park for the benefit of local residents can be built.
The program includes an ambitious idea; The Azrieli Group will build a new tower where the Yedioth Ahronoth headquarters is currently located, on Menachem Begin Road in Tel Aviv, and in exchange promises to cover a section of the Ayalon Highway to create an urban park,  The work is expected to begin in 3 to 5 years, depending on approvals given by the planning committee.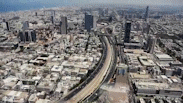 The Tel Aviv Municipality confirmed the information and added that according to the local committee's decision, the section highway slated to be covered over is bordered by Yitzhak Sadeh Street in the south and Arlozorov Street in the north.
And what exactly is going to happen beneath the new park? According to Itai Pinkas, a member of the municipal city construction committee and chairman of  the Ayalon project's steering committee said, "The roof will cover Ayalon highway's lanes, basically to enclose the traffic with a "lid" so it passes through tunnels."
So what will be built over the tunnels? Pinkas clarifies that no additional towers will be built – the covered space will become an open area that will include a green park for the benefit of local residents. "There will be no massive construction or malls as that would make the heart of the city even dirtier and noisier. The park will actually connect the neighborhoods of Yad Eliyahu, Nahalat Yitzhak, Bitzaron, and hopefully the city center," he said.
In fact, the covered area will be encompassed by dozens of new towers of different uses, that are currently in the process of approval and construction as part of the northern Central Business District branch of the municipality.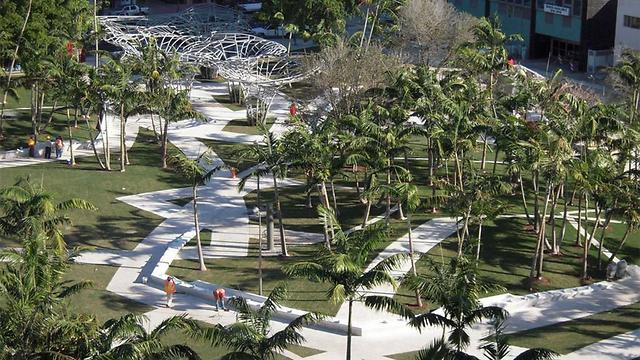 A similar project in Miami. – Photo: Courtesy of Tel Aviv Municipality
Pinkas adds that cafes and sports complexes (like the Herzliya Sportech) will likely be built in the park. According to him, the inspiration for the establishment of a green park over the Ayalon came to the steering committee from similar projects abroad such as Park Avenue, the High Line Park in New York, Miami Beach Park, the Big Dig project in Boston and the London highway covering project.
View original Ynet publication at: http://www.ynetnews.com/articles/0,7340,L-4683067,00.html