Prime Minister Netanyahu sends MDA plus IDF jets with medical support teams to Istanbul to return Israeli victims after suicide bomber attack.
By JPOST.COM STAFF, YUVAL BAGNO/MAARIV
Eyewitness accounts by Israeli victims of the Istanbul terror attack Saturday afternoon told their stories through social media or gave interviews about their terrifying experience after a suicide bomber killed five people and injured over 30 more.
One victim, Naama Peled, who traveled to the Turkish metropolis in order to participate in a culinary excursion, wrote on social media to assure her family and friends that she was in good health.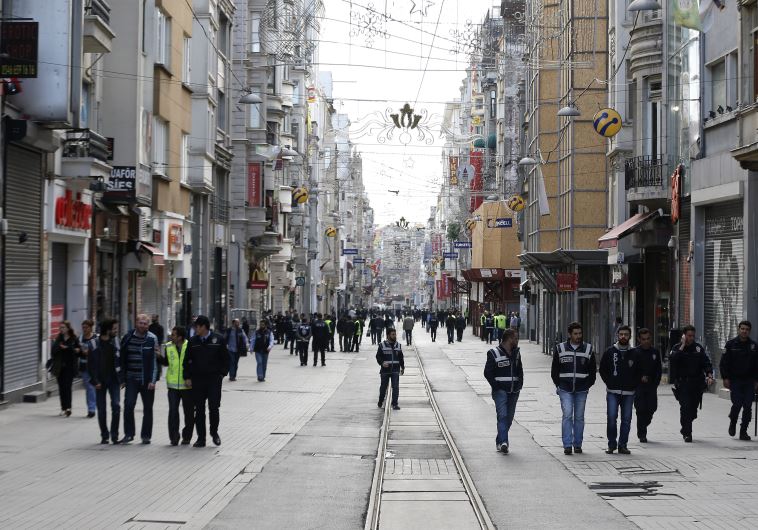 (Photo by: Reuters)
"To all my friends and loved ones, I'm fine," Peled wrote on her Facebook wall. "I was only slightly injured in the attack that took place on Istiklal Street. I am currently being treated in the hospital."
"I'm praying for everyone's safety," she wrote.
Another Israeli victim, who was also slightly wounded in the attack, spoke to The Jerusalem Post's sister publication Ma'ariv shortly after the horrific episode.
"The explosion was horrible and the next second I found myself lying on the ground with objects flying all around me," the eyewitness, who could not reveal their name, told Ma'ariv.
"I still have not recovered from the shock and do not understand what actually happened," they added.
Ma'ariv noted that the victims in the blast were asked by Turkish security forces per Israeli authorities not to disclose information or describe events of the terror attack until they finished conducting their investigation.
Meanwhile, Turkish authorities confirmed on Saturday that one of the Israelis wounded in the suicide bombing in a bustling tourist district of Istanbul died in the attack.
The Magen David Adom rescue service also said on Saturday that one Israeli was confirmed dead, although the Foreign Ministry has yet to verify the report.
Earlier on Saturday, there were unconfirmed reports that two other Israelis had died in the blast.
View original The Jerusalem Post publication at:
http://www.jpost.com/Israel-News/I-found-myself-lying-on-the-ground-with-objects-flying-all-around-me-448487