Breaking away from its policy to show Gaza as an 'open prison camp,' Hamas presents the terror enclave as the 'Singapore of Middle East' in latest released political video ahead of upcoming Palestinian elections.
By Elior Levy
With the Palestinian local elections to be held in two months in Gaza and the West Bank in which Fatah and Hamas will participate, Hamas has released a propaganda video illustrating what appear to be huge successes in the Gaza Strip.
The terror organization seeks to demonstrate before the residents of the West Bank and of Gaza the practical achievements under its reign.
Hamas propaganda video depicts flourishing life in Gaza.
As such, the video presents Gaza as one of the best places to live in the Middle East, offering an energetic and flourishing lifestyle.It is depicted as a developed location marked with impressive buildings and newly developed neighborhoods. The video shows spacious parks, lakes, city squares, sunny coastal beaches and people smiling in various places in the Strip holding signs bearing the words, 'Thank you Hamas.'
To the average viewer who has never entered Gaza the much-proffered dream of transforming it into the Singapore of the Middle East appears to have been realized.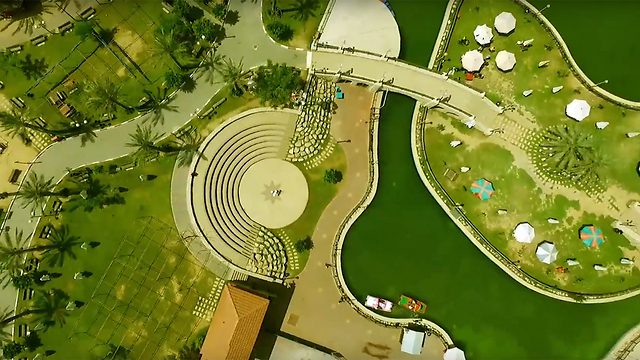 Parks presented in Gaza in Hamas propaganda video
This is precisely the image that Hamas endeavors to portray to Palestinians. The apparent success story is intended not only for the Gaza residents but mainly for those residing in the West Bank with emphasis being placed on tourism, new mosques, buzzing shops, modern hospitals, hotels and even a lively night life.The image breaks with Hamas' previous specialization in producing marketing videos intended to convey the hardships of a blockade or, as they often claim, the world's largest prison camp. Indeed, the campaign video contrasts heavily with previous videos presenting the Strip as being on the brink of total collapse under an Israeli blockade.
The neighborhoods which appeared over the last few years in Hamas videos, such as the obliterated Sajia, abandoned refugee camps such as Bureij and Jabalia and the Zaytun Quarter are noticeably absent.
In an effort to garner further support, the clip's producers went even further by presenting a plaque from the Gaza Strip with a picture of Yasser Arafat under whose rule senior Hamas officials were subjected to torture in prisons run by the Palestinian security apparatus.
View original Ynet publication at:
http://www.ynetnews.com/articles/0,7340,L-4839305,00.html