In 2nd day of demonstrations near Gaza's border fence with Israel, two Palestinians killed and several more wounded by IDF, just 24 hours after 7 rioters were shot dead during a similar riot.
By Elior Levy & Yoav Zitun
Two Palestinian teenagers – aged 13 and 15 – were shot dead by IDF fire on Saturday during disturbances close to the border fence in the Khan Younis area, as violent confrontations continued to rage along Gaza's borders throughout the weekend.
Twenty-three people were also reportedly wounded during the clashes, most of them very lightly.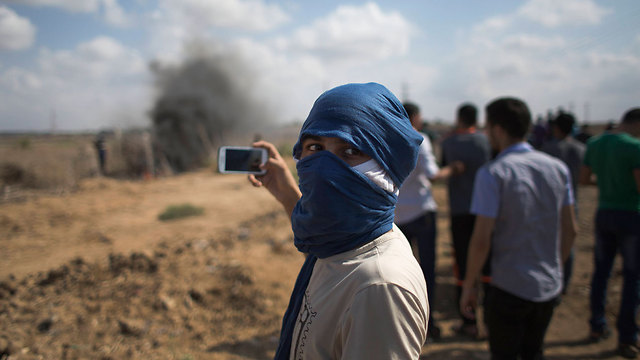 Palestinian in Gaza across from Nahal Oz area on Friday – Photo: AP
The IDF fears an escalation as a result of the deaths and following rocket fire from the Gaza Strip late Friday night, Iron Dome batteries were deployed in Be'er Sheva and Ofakim. 
The army also fired shots at the lower body of three Palestinian protesters during the demonstrations.
Earlier on Saturday dozens of Palestinians threw stones from the Shujai'ya neighborhood of Gaza City towards the border fence in the northern Gaza Strip. IDF troops responded with warning shots into the air.
Dozens of Palestinians youths were also setting tires alights in the area.
On Friday, IDF fire killed seven Palestinians and wounded 60 more during demonstrations in which hundreds of protesters marched to the border fence in the northern Gaza Strip. Stone-throwing and burning of tires was also reported during the protests.
View original Arutz Sheva publication at:
http://www.ynetnews.com/articles/0,7340,L-4709218,00.html