Cyprus arrests 2nd Lebanese national, accused by Israel as Hezbollah agent, over the discovery of 5 tons of smuggled in ammonium nitrate, used in manufacturing bombs.
By Reuters
Cyprus detained a Lebanese man for questioning on Saturday over the discovery of five tons of chemical fertilizer capable of making explosives, in a case Israel says is a Hezbollah militant plot.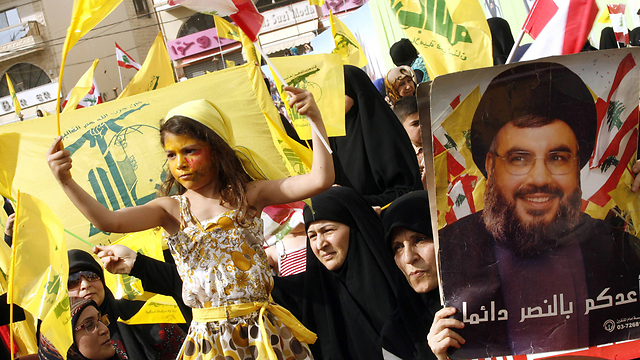 A Hezbollah rally in Lebanon – Photo:AFP
The 62-year-old man, a resident of the Cypriot capital Nicosia, is the second to be arrested following the discovery of large amounts of ammonium nitrate at a home in the coastal city of Larnaca in late May.
Police believe the older man may be involved in the transfer of the chemicals, which came disguised as ice packs in first aid kits imported to the island, the state-run Cyprus News Agency reported.
Related:
Cyprus uncovers covert Iranian terror plot across Europe from arrested Hezbollah agent
A 26-year-old Canadian-Lebanese man is already in custody. A Cypriot court extended his detention on Friday
Security sources say authorities are looking into a possible link with Iranian-backed Hezbollah, a claim backed by Israel.
The younger suspect has denied any connection with Hezbollah or the find.
Ammonium nitrate, if mixed with other substances, can become a very powerful explosive. Under Cypriot anti-terrorism laws, possession of any substance with the potential to be used as an explosive, and under reasonable suspicion, is an offense.
Fertilizer-based bombs remain the explosive of choice for militant groups around the planet, having been used to carry out the 2002 Bali Bombings, and the 2003 attack on the HSBC bank headquarters.
Cyprus has had little commentary to offer on the case, however Defense Minister Moshe Ya'alon has said that the fertilizer was to be used as explosive, citing information he received from Cypriot authorities.
"These where apparently meant to be ready for attack on us," Ya'alon said, referring to Jewish and Israeli targets in Cyprus and Europe. He said the explosives may have also been intended for attacks on western targets in Europe.
Cyprus is a popular holiday destination for Israelis, and the island is host to two British military bases. The last major militant incident occurred in 1988, when a botched attack on the Israeli embassy left three people dead.
View original Ynet publication at: http://www.ynetnews.com/articles/0,7340,L-4665629,00.html
READ MORE from IsraelandStuff.com on Hezbollah-Iran Related Global Terrorism: