FIFA president

Blatter

meets Netanyahu in Jerusalem saying, "

Football has the power to construct bridges. Football shall unite people & not divide people."




•

Palestinian official responded, claiming Israel 'leading world by nose because of Holocaust.'
By David Ben Shimol
During a visit to Israel on Tuesday, FIFA President Sepp Blatter voiced his objections to an upcoming vote initiated by the Palestinian Football Association to suspend the Israeli FA from participation in international soccer competitions.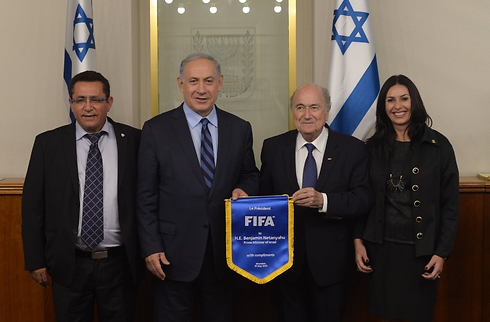 Eini, Netanyahu, Blatter, and Regev (Photo: GPO)
Prime Minister Benjamin Netanyahu warmly welcomed Blatter to Israel when the two met in Jerusalem. "I want to praise you for opposing the politicizing of sport. Sport is a vehicle of goodwill among nations."
Netanyahu emphasized the importance of separating politics from soccer. "The thing that could destroy the Football Association is politicizing it. You politicize it once with Israel, then you politicize it for everyone, and it will cause the deterioration of a great institution."
RELATED:
Blatter thanked Netanyahu for his support and reiterated his intention to use the powerful governing body to help heal the rift between rivals. "Football is nowadays such a strong, strong organization that we should go into a peace situation and not into a fighting situation, and football shall connect people and not divide people."
Blatter said he is on a "mission of peace" to resolve tensions between the Israeli and Palestinian soccer federations in the hope of staving off a Palestinian bid to oust Israel from the world governing body.
Video: Prime Minister Benjamin Netanyahu's meeting with FIFA President Sepp BlatterVideo: Etay Beit-On, GPOSound: Itamar Bouton, GPO

Posted by The Prime Minister of Israel on Tuesday, May 19, 2015
As part of his vision of using sports as a bridge between people, Blatter proposed holding a peace match in Zurich between the Israeli and Palestinian national teams. Seated alongside Blatter, the president of the Israeli federation, Ofer Eini, immediately accepted the offer. But the main issue bringing the FIFA president to the region appeared to remain unresolved.
Palestinians say Israeli security restrictions are limiting movement of Palestinian players, visiting teams and soccer equipment and have put forward a proposal to suspend Israel from world soccer at the 209-nation FIFA meeting on May 29. Blatter opposes the suspension vote, saying Israel has not broken FIFA statutes in a political issue outside of soccer's control.
"We will never, ever accept any compromise, any agreement or deal outside the Congress," Jibril Rajoub, a former politician who has headed the PFA since 2008, said on Tuesday.
"(The Israelis) think they can keep leading the world by the nose because of the Holocaust," he said, emphasizing the point twice. "They are the bully of the neighborhood."
The Israeli federation has said it cannot be held responsible for restrictions imposed by the state of Israel, which frequently limits Palestinians' movement or holds up the delivery of goods because of security concerns.
That position was reiterated by Rotem Kamer, the chief executive of the IFA, in a conference call on Tuesday, as both sides stepped up their public relations ahead of the Congress.
"I don't think there is any football association around the world which can tell its government how to deal with security issues, including the Israeli Football Association," he said.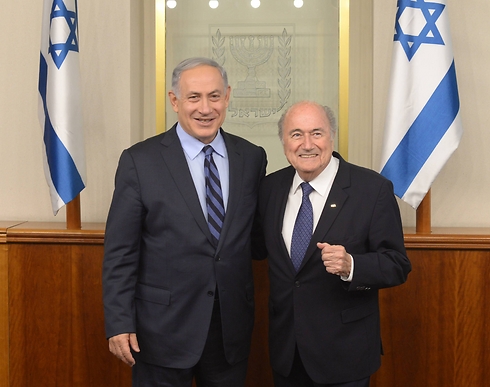 Netanyahu and Blatter (Photo: GPO)
"At the end of the day, it is not something that we can deal with," he added, while also dismissing the charge about racism in Israeli football, saying it was an unfortunate phenomenon around the world that everyone had to fight against.
Blatter is scheduled to meet Palestinian President Mahmoud Abbas in Ramallah on Wednesday and has repeatedly said he would not disclose details of his conversations with Netanyahu before that time.
But Blatter, who fashions himself as a peacemaker, said he hoped to reach a quick solution to the crisis and perhaps even spark further cooperation between the sides.
"Football is more than a game. Football has the power to connect people. Football has the power to construct bridges," he said. "Football shall unite people and not divide people."
Israel has rejected the Palestinian bid as an attempt to politicize sports. Eini said his organization has done its best to assist Palestinian soccer and will continue to do so, but that many issues were beyond its control and needed to be resolved at a political level.
Israel has cited security concerns as the reason behind the occasional restrictions placed of Palestinian players, particularly in the Gaza Strip, which is ruled by the terror group Hamas.
Reuters, AFP, and the Associated Press contributed to this report.
Edited by Roei Eisenberg.
View original Ynet publication at: http://www.ynetnews.com/articles/0,7340,L-4659327,00.html