After Abdullah Barghouti was taken to solitary confinement by

Israel's prisons authority

for giving prohibited radio interview with a smuggled in cellphone, it was reported that he began an indefinite hunger strike.
By AFP, Liad Osmo
An imprisoned commander of Hamas's armed wing who is serving 67 life terms has been placed in solitary confinement for speaking to a radio station, Israel's prisons authority said Sunday.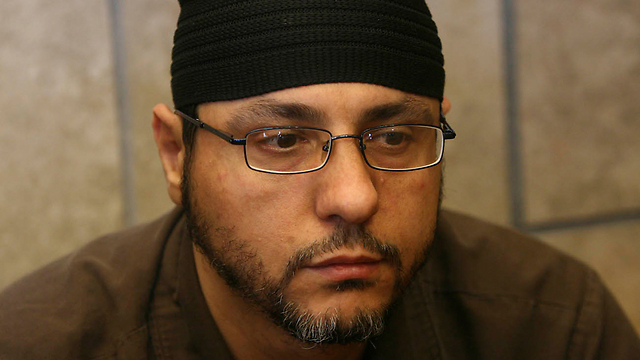 Jailed Hamas operative Abdullah Barghouti – Photo: Hagai Aharon
Abdullah Barghouti gave an interview to Hamas radio using a mobile telephone "smuggled into the prison where he is being held, and has been placed in an isolation cell," said spokeswoman Sivan Weizman.
The duration of his stay in solitary confinement has yet to be determined, she added.
In the interview, Barghouti urged Hamas to take its time in reaching an agreement regarding prisoners.
According to Issa Qaraqe, the Palestinian minister for prisoners' affairs, Barghouti has begun a hunger strike with no definite end.
Barghouti is a leading commander of the Ezzedine al-Qassam Brigades, the military wing of the Palestinian Islamist movement which is the de facto ruler of the Gaza Strip.
Arrested in 2003 by Israel's Shin Bet internal security agency, Barghouti was sentenced to 67 life terms by a military court the following year over attacks in the Jewish state that killed 66 and wounded hundreds more.
View original Ynet publication at: http://www.ynetnews.com/articles/0,7340,L-4663357,00.html