Israel's PM Netanyahu is scheduled to meet more than 40 US bipartisan lawmakers traveling to Israel early next month.
By TAL SHALEV
"The objection to the Iran deal is growing as time goes by," Israeli Prime Minister Benjamin Netanyahu said on Thursday during a meeting with Israeli diplomatic correspondents in Jerusalem.
"The more people learn about the deal, the more they oppose it. We also identify this trend among the US public opinion," he emphasized, reiterating former remarks about the historic deal curbing Iran's nuclear program signed on July 14, 2015 between Iran and the Western powers.
"The fact that we identify a existential threat does not mean we will surrender to it. This is a bad deal and we are better off without it," Netanyau added.
The PM also sent a message to the US Congress, saying: "If the deal does not pass Congress, it will prevent the biggest threat of turning Iran into a threshold nuclear superpower in just ten years."
He stressed the fact that other countries in the Middle East also object to the deal: "I get messages from Sunni states in the region. They are not only against the Iran deal, but are terrified of it."
US Congress to vote on deal on September 17.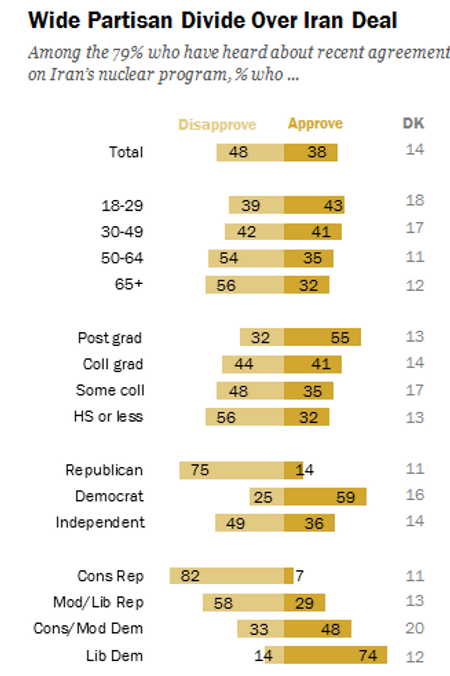 Congress has until September 17 to review and vote either to reject or approve the Joint Comprehensive Plan of Action (JCPOA) reached between Iran, the US and the five world powers in the Austrian capital of Vienna.
According to the text of the agreement, Iran will be recognized by the United Nations as a nuclear power and will continue its uranium enrichment program.
More than 40 US lawmakers are scheduled to travel to Israel early next month to meet with Netanyahu before they vote in Congress on the nuclear agreement with Iran.
House Minority Leader Steny Hoyer (D), told the Hill: "We'll meet with Mr. Netanyahu, [and] I'm sure he will repeat his very deep concerns and the dangers he believes that the deal presents to Israel…We will speak to people in Israel who do not share his view.
Most Republicans oppose the nuclear agreement with Iran, but they need a two-thirds vote in both chambers of Congress to override a presidential veto and to reach that threshold, Republicans need Democrats' support.
In remarks before the Council on Foreign Relations on Friday, Secretary of State John Kerry suggested that if Congress rejects the Iran agreement, the world would hold Israel responsible because of its extensive campaign against it.
US President Barack Obama has also vowed to veto any congressional resolution seeking to reject the agreement.
View original i24news publication at:  http://www.i24news.tv/en/news/israel/diplomacy-defense/80338-150730-netanyahu-the-more-people-learn-about-iran-deal-the-more-they-oppose-it
In rebuttal to the John Kerry clip above, I wish to offer this parody of supposedly Iranian negotiator being interviewed on local TV.
It would be much funnier….had it not been so true!