Strong winds & extreme heat caused near blackout conditions in Jordan as massive sandstorm whipped across the Jordanian desert forcing flights to Amman diverted to the Jewish State.
By Itay Blumental & Roi Kais
The extreme heat felt throughout Israel on Sunday is affecting the entire region as a whole, with one of the weather's hardest hit victims being Israel's neighbor to the East, Jordan.
The strong winds whipping across the kingdom's desert plains caused massive sand storms, forcing changes in the country's air traffic patterns.
The storm prevented flights from landing at Amman International Airport, sending two Royal Jordanian flights to land at Israel's Ben Gurion International Airport. Flights operated by other Arab carriers, which cannot land in Israel, were diverted to Aqaba.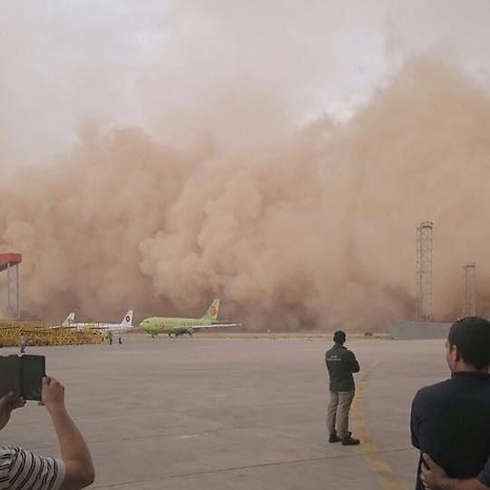 The massive sand storm in Amman
If the weather does not change in the next few hours, several Jordan-bound flights are expected to land at Ben-Gurion Airport.
The heavy heat wave hitting the region has spurred calls for a national holiday in Jordan. Concurrently, several areas in the country reportedly experienced rain.
View original Ynet publication at: http://www.ynetnews.com/articles/0,7340,L-4686726,00.html