'Baird you are not welcome in Palestine' protesters yelled at Canadian FM when he arrived for 'cordial & constructive' meeting with Palestinian leaders in Ramallah.
By Elior Levy
Canadian Foreign Minister John Baird's convoy was pelted with eggs and shoes while visiting the West Bank on Sunday, Palestinian sources told Ynet. The incident took place as the convoy was arriving at the Palestinian Foreign Ministry in Ramallah. Palestinian security forces managed to prevent them from reaching the convoy.
Baird was not hit, but one of the eggs smacked onto the roof of his car after a meeting with his Palestinian counterpart at the Foreign Ministry in Ramallah.
Photo (right): Screenshot
Protesters also held signs reading: "Baird you are not welcome in Palestine." Activists from Palestinian President Mahmoud Abbas' Fatah party earlier called for a boycott of Baird because of Canada's perceived pro-Israel stance.
Several dozen Palestinian special forces armed with machine guns and riot gear made no effort to confront the egg-throwers among a crowd of about 100 protesters.
"You're not welcome," the demonstrators shouted at Baird.
Canada was among a handful of countries that voted against Palestinians' successful bid to become a non-member state at the United Nations General Assembly in 2012. This month, Baird called a Palestinian move to join the International Criminal Court "concerning and dangerous".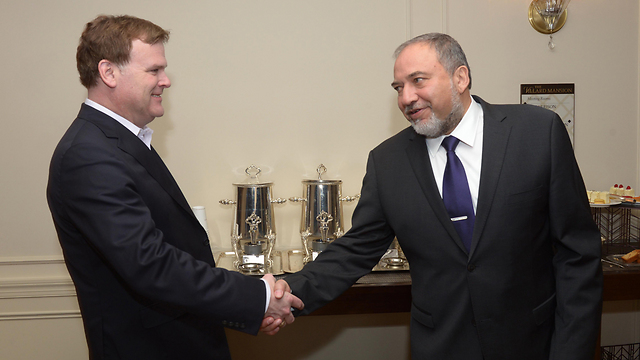 Foreign Minister Avigdor Lieberman with John Baird – Photo: Shahar Azran
Baird is in the region for five days of meetings with Israeli and Palestinian officials. Canada is opposed to the recent Palestinian bid to pursue war crime charges against Israel.
Alluding to the International Criminal Court, Baird said he asked Malki to "strongly reconsider the consequences of moving forward with any action that may be counterproductive to a negotiated solution" with Israel.
"A desire for a future of peace, prosperity, stability and security for both Palestinians and Israelis must drive both parties toward direct negotiations," he said. "Today, we reaffirmed our will to work together on these matters at this crucial time."
Baird later met with Israeli Foreign Minister Avigdor Lieberman, who thanked Canada for its support. Baird said the two would discuss the "deeply regrettable decision" by the Palestinians to join the international court as well as our "common efforts to fight terrorism and extremism."
Israel, which like the United States does not belong to the ICC, hopes to dent funding for the court that is drawn from the 122 member-states in accordance with the size of their economies, Foreign Minister Avigdor Lieberman said Sunday.
"We will demand of our friends in Canada, in Australia and in Germany simply to stop funding it," he told Israel Radio. He said he would raise the matter with Baird Sunday.
Baird was in Ramallah on Sunday to meet Palestinian Foreign Minister Riad Malki.
[KGVID width="610″ height="343″]https://www.israelandstuff.com/wp-content/uploads/2015/01/Palestinians-throw-eggs-at-Canadian-FM-u200f.mp4[/KGVID]
In a statement, Baird described his meeting with Malki as "cordial and constructive" and included "candid and frank exchanges on areas where we differ in opinion."
Over the weekend, former lead Palestinian peace negotiator Saeb Erekat penned a scathing critique of Baird, who he said goes "out of his way to legitimize the banality and brutality of a 50-year-old Israeli occupation.
Erekat wrote that Baird should "apologize to his own citizenry, many of whom are God-loving Jews, Christians and Muslims who would never condone nor cheer for an Israeli government that stretches support to Israeli settlers who attack churches and mosques."
He further said that "Baird should apologize for his active encouragement of Israel's brute and ugly occupation and its apartheid policies (and) failing to promote those things Canadians hold dear such as freedom, dignity and human rights and for replacing those ideals with an outspoken support of Israel's clear and undisputed violations of international law."
The Associated Press contributed to this report.
View original Ynet publication at: http://www.ynetnews.com/articles/0,7340,L-4616276,00.html