SURVEY: With the global average of 4.21%, Israelis spend 4.16% of their Internet traffic time to pornographic sites. Iraq, at 10.27%, leads the world in traffic dedicated to porn.
By Sagi Cohen
Israelis are in a good place in the middle in terms of online porn consumption compared to the global average. According to figures compiled by Israeli information technology company SimilarWeb, an Israeli spends 3:29 minutes in each porn site he visits – slightly higher than the global average of 3:16 minutes. During that time, he enters an average of 4.27 different pages.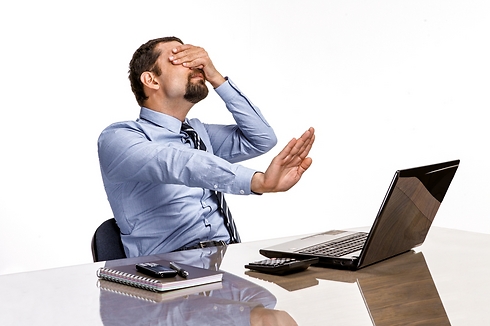 Porn sites are less popular than news and shopping sites, but more popular than game and travel sites – Photo: Shutterstock
About 4.16% of the Internet traffic of adult Web surfers in Israel is to pornographic sites – less than news websites, shopping sites, social networks and search engines, but more than the traffic to other popular sites. Game sites, for example, get only 2.29% of the net traffic in Israel, while travel sites get 1.7%. Sports sites are less popular than porn sites too (1.09%), as are animal, gardening, science, gambling, vehicle and health sites.
The leading countries in the world in terms of net traffic dedicated to porn are Iraq (10.27%), Egypt (8.07%) and Serbia (6.42%), while the United Arab Emirates (1.76%), Kuwait (2.55%) and Saudi Arabia (2.60%) are at the bottom of the list. The global average is 4.21%.
Israelis favor Internet over sex, survey shows  / Sagi Cohen
Google Israel poll finds 72% of Israelis would rather give up sex for a month than not have Internet access; 47% of women and 25% of men would give up sex for a whole year in order to stay online.
Full story
The study was conducted by the research department of SimilarWeb, which was founded by CEO Or Offer and CTO Nir Cohen in 2009 and provides services such as web analytics. The company has developed a service analyzing net traffic to different websites, based on a technology which collects sample figures of tens of thousands of users and agreements with Internet providers around the world.
In December 2014,  Yedioth Ahronoth published a list of the hottest websites in the country, which recorded the highest growth in entries from Israel in 2014 compared to 2013. One of the websites which saw the highest increase was the Ashley Madison online dating service, which matches between men and women who are already in a relationship and want to have an affair. The website has also been launched in Hebrew.
View original Ynet publication at: http://www.ynetnews.com/articles/0,7340,L-4654951,00.html
=====================================================
The U.S. Holds Majority Share Of Traffic Flow To Porno Sites, According To Similar Web Survey
By Preetam
An interesting study titled "Who are the biggest consumers of online porn?" by Similar Web, reveals that the US is responsible for the highest amount of traffic flow to porn websites. The US tops the "Top suppliers of adult traffic" chart with a 24.52% share, followed by 5.49% from the UK, and 4.90% from Germany. Developing nations such as India and Brazil have a 3.18% and 4.80% share respectively.
The study reveals that Reddit.com is the top social network that drives traffic to pornographic websites. Reddit has a 57.21% share among other social networks. Facebook, YouTube, and Twitter have a 5.84%, 4.46%, and 1.55% share respectively.
Similar Web's study also reveals Search Engine traffic numbers. Google is the major player in driving traffic to adult websites, with an overwhelming 83.48% share. Yahoo is at 5.89%, whereas Bing is at a distant 1.89%.
Adult sites also have the 4th largest in the category of traffic from display ads.
To read more on this survey, visit: Who are the biggest consumers of online porn?
View original nextpowerup.com/news publication at: http://www.nextpowerup.com/news/19528/the-us-has-majority-share-of-traffic-flow-to-porn-sites-according-to-similar-web-report/