Netanyahu and senior military officials showcased the deadly arsenal on board seized Iranian ship, vowing to expose Iran's true face.
By Yoav Zitun, Ron Notkin
While the media in the Western world showed no interest in Israel's grand display of the weaponry sezied from the Iranian ship Klos C, and the first official American condemnation only arrived six days after the ship's capture, it was the Arab world's press that showed the most interest in Prime Minister Benjamin Netanyahu's bid to show Iran's real face.
In the respected New York Times, there was no mention of the event Monday, in which Netanyahu, Defense Minister Moshe Ya'alon and Navy
commander Ram Rotberg showcased the haul of advanced weapons found on the seized ship. The Times only reported on the ship's capture, and only in its website's Middle East section. The main item in that section was Monday morning's shooting at the Allenby border crossing between the West Bank and Jordan, where a Jordanian judge was shot dead after attacking an IDF soldier.
Even the Washington Post didn't display the weapon shipment bound from Iran to the Gaza Strip when it was intercepted in international waters by Israeli naval commandos. However, the pro-Republican Fox News, which is more in step with Netanyahu's political views, the ship's contents were the top story on their website.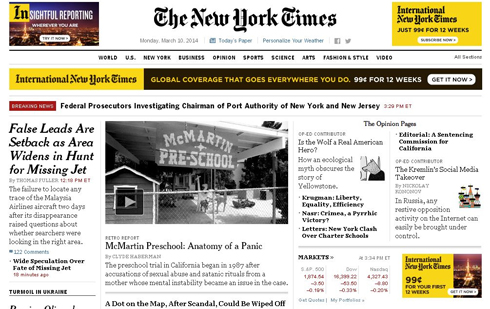 Coverage of the Iranian arms ship in the New York Times
Fox News quoted Netanyahu's words to the international community: "What is new is not Iran's deeds or its lies, but the desire of many in the international community to bury their heads in the sand".
Meanwhile, leading British news outlets such as the Guardian, the Independent and Sky News also ignored the event in Eilat to unveil the weaponry found on the Klos C. Like the New York Times, both the Guardian and the Independent focused on the shooting at the Allenby crossing.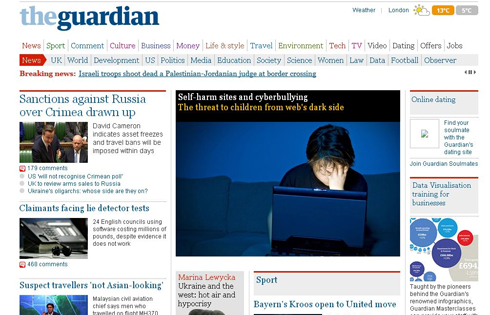 Unexpected surprise
It was actually the Arab media that elaborated on the display of weaponry. Al-Jazeera placed the event on its front page, under the headline "Israel attacks the hypocrisy surrounding the weapon seizure". It also quoted Netanyahu's speech and provided a detailed list of the weapons on the ship.
The Saudi-owned Al-Arabiya posted a wires story about the ship, while its correspondent Ziad Halabi attended the event in Eilat.  According to Halabi, "the press conference doesn't change anything, as most of the Arab world is aware of the Iranian support for terror, and opposes it."
View original Ynet publication at: http://www.ynetnews.com/articles/0,7340,L-4497627,00.html