In a major deal with Berlin, announced a day before Israel & Germany mark 50 years of diplomatic relations, they will provide the IDF with 4 vessels to protect Israel's offshore gas rigs.
By Yoav Zitun
Defense Minister Moshe Ya'alon and German Defense Minister Ursula von der Leyen signed a contract Monday under which Israel will purchase four ships from Germany to protect its offshore gas rigs. The total cost of the vessels is estimated at about NIS 1.8 billion. The German government will finance a third of the deal, which was announced a day before Israel and Germany will mark 50 years of diplomatic relations.
Patrol Corvette, the vessel on which the new Navy ships will be based – Wikipedia

It's been nearly two decades since Israel replenished its naval ships and military officials are hoping the German ships, advanced surface vessels, will become the future combat boat of the Israeli navy. It will take two to four years to complete the construction of the ships and bring them to Israel.
The ships purchased by Israel are larger and heavier than the Sa'ar 5-class corvettes currently used by the Navy. Each ship will weigh about 2,000 tons, and will be capable of carrying advanced combat systems that will enable operations from a distance of hundreds of kilometers from Israel's coasts and will include missile tracking systems.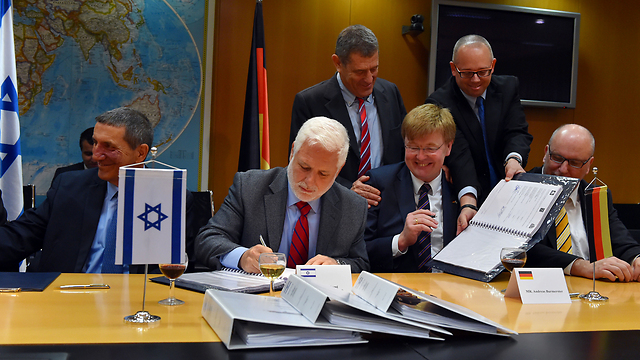 Signing ceremony at Kirya military base in Tel Aviv – Photo: Ariel Hermoni, Defense Ministry
Similar to the new German-made submarines that will arrive in Israel in September, the new ships will arrive "bare", and will be installed with a combat system developed by the defense industry in an process that will take a year.
Alongside the major impact Israel's Leviathan and Tamar natural gas fields have on Israel's economy, they also created a security challenge for the Navy, whose troops secure the fields that have become strategic targets. The Navy's missile ships are forced to sail regularly to the gas rigs and during periods of tension in the north, a missile boat has to remain nearby.
In 2012, the Navy completed formulating details regarding a proposed plan for the protection of the rigs. The recommendations were transferred to the government, which confirmed them. A tender was then announced, coming to a completion today at a festive signing ceremony at the IDF headquarters at the Kirya base in Tel Aviv.
Dan Harel, the Defense Ministry's director-general, said the deal marked a "dramatic jump in the navy's defensive capabilities."
Israel already has four German-made submarines capable of launching nuclear warheads.
Associated Press contributed to this report.
View original Ynet publication at: http://www.ynetnews.com/articles/0,7340,L-4656029,00.html