Israel's gov't says it is aware of 6 Israelis stuck on Langtang trail as trekker & his mother call for helicopter rescue.
By Itamar Eichner
Four Israelis caught up in the earthquake in Nepal were rescued Monday from Mount Everest by the Harel insurance company. The four had been trapped at high altitude and were rescued by helicopter.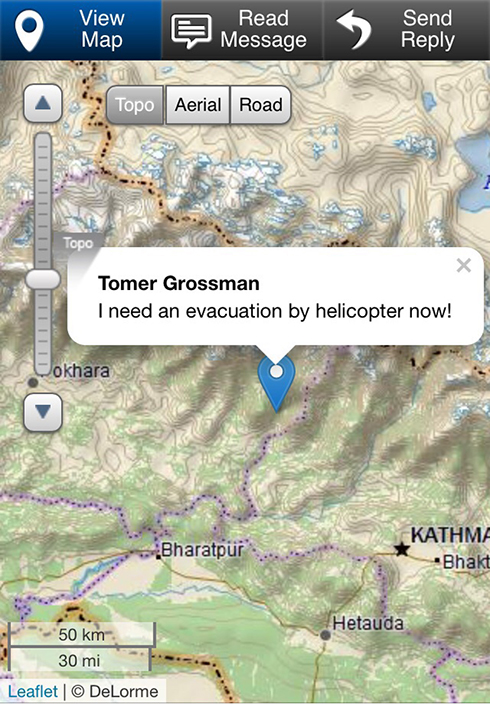 Meanwhile, other Israelis left stranded by the devastating quake and their relatives are calling on the government to take immediate steps to rescue them as conditions worsen and the death toll rises.
Some 100 Israelis have still to make contact following the quake, but with electricity outages and appalling weather conditions, it could be difficult for many to do so. Two planes have airlifted injured Israelis back from Nepal as well as bringing babies born to Israeli parents via a Nepalese surrogate mother.
An IDF search and rescue mission finally took off Monday morning, after delays due to damaged runways at Kathmandu airport.
Around 200 Israelis have signed up to be evacuated on an El Al jumbo jet, which is scheduled to depart early Tuesday morning.
Parents of travelers who have remained out of contact arrived at the Foreign Ministry in Jerusalem on Monday afternoon, where they requested that the ministry pressure the Nepalese government to release helicopters.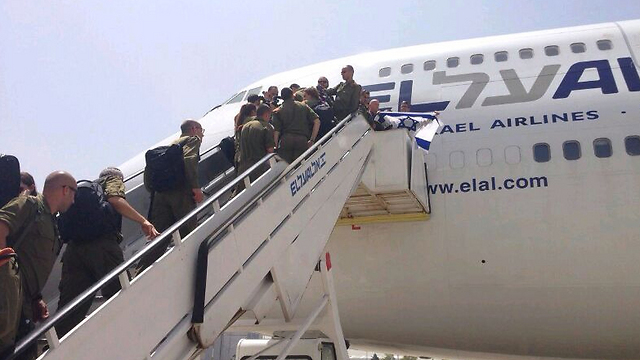 IDF search and rescue team boards the delayed flight to Nepal on Monday – Photo: Yoav Zitun
The brother of a traveler stuck in Langtang with ten other Israelis said a message from his sister said her group had only enough food for another two days. She told him there was looting as well as shooting at night, and that members of the group were protecting one another at night to prevent theft of their supplies.
Oranit Grossman from Yichron Yaakov was in Nepal for a 50th birthday trek with her 22-year-old son, Tomer. She landed at the weekend in Kathmandu and rushed to join her son, who recently completed his studies in the US.
The two were stranded in a village after the earthquake, surrounded by the bodies of those killed in the 7.9 tremblor. The village has been cut off and food is running out. Tomer sent a message by phone giving their precise location and calling for rescue.
The Foreign Ministry in Jerusalem said it was aware of the situation and was making every effort to reach the two.
The death toll in the quake reached 3,300 by Monday morning. A statement from the Nepalese Interior Ministry said that some 6,500 people had been injured, and 90 people had been killed in neighboring countries.
Meanwhile, relatives of a group of Israelis trekking in Nepal have called on the goverment to immediately demand permission from the Nepalese government to send civilian helicopters on a rescue mission to the area where they are stranded.
"We fear for the life of our daughter and her friends," Shlomo Levkovich, the father of group member Achinoam Levkovich, said in a statement. "Six of our own, all from Tivon and the surrounding area and who served in the army, have been trekking for six days on the Langtang trail in the mountains."
Shlomo said: "They left precise details, went with a reputable company and two guides, left all their contact details and took great caution. They have a satellite phone and have told us several times that, 'we are well, the passes are blocked because of the avalanches, there is little food, we have lit a fire, conditions are worsening, come and rescue us.'"
Shlomo said the last message received from the group was at 1pm on Sunday, and since then there has been no communication.
"We have exact coordinates that we have given to three rescue organizations," said Shlomo. "The team from Harel arrived in Kathmandu 16 hours ago. Since this morning, the pilots and helicopter team has been waiting at the airport and have not had permission to take off.
"The local teams say that they have no communication with the tower and only military helicopters can take off and are rescuing hikers from Everest."
He said he had learned that the group could be reached only via helicopter, as it was trapped 2,560 meters (about 8,400 feet) above the ground. He added that the group was using a satellite phone to call every four hours but attempting to save the battery.
Naama Shohat, another member of the group from Tivon, said in a text message to her mother early Monday morning that they were stranded. "There are cliffs from all sides and avalanches all the time, every few minutes," she wrote.
View original Ynet publication at: http://www.ynetnews.com/articles/0,7340,L-4651040,00.html