New legislation sets 20-year

 

sentence if intention is to cause harm, and 10-yrs for throwing at police when intention is to disrupt officers from completing duty.

 
By Moran Azulay
Legislation to impose harsher sentences on stone-throwers passed the final hurdle on Monday night in the Knesset after it passed the second and third readings, making it into law.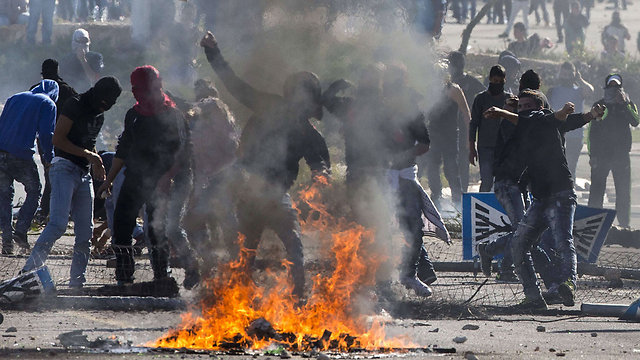 Rioters in Kafr Kanna – Photo: AFP
The bill, proposed by former justice minister Tzipi Livni and then promoted in this term by her successor Ayelet Shaked, passed with 69 in favor, including Zionist Union MKs, and 17 against. 
The new legislation is an amendment to the existing law, and serves to supplement and clarify it. Primarily, it defines stone-throwing at police with the intention of disturbing or preventing officers from doing their duty as an offense.
The amendment also splits the offense of stone-throwing to two different levels of severity. On the first level, stone-throwers could receive up to 10 years in prison without the prosecution having to prove intention to cause harm. On the second level, in cases where the prosecution can prove an intention to cause harm, stone-throwers could receive up to 20 years in prison. 
Before the amendment's passing, the maximum punishment for throwing stones or other objects at vehicles or individuals on a road was 20 years, but it required the prosecution to prove the thrower intended to cause harm. In many cases, this intention was hard to prove, creating a situation in which stone-throwers received relatively light sentences, which did not match the severity of the offense. 
"Justice was made today," Shaked said after the amendment's passing. "For years, terrorists got away from punishment and accountability. Leniency to terrorists stops today. A stone-thrower is a terrorist and only an appropriate punishment can serve as deterrence."
Tensions were running high at the Knesset during the discussion on the legislation.
Joint Arab List MK Jamal Zahalka said: "Imagine we brought both the stone-throwers and those who caused them to throw stones in front of a judge. Who would the judge put in prison? The one who demolished a house, expropriate the land, killed the brother? Or the boy who threw a stone? You are picking on people who are responding to greater wrongs. This is hypocrisy. Those who demolish homes get rewarded, but the boy whose anger is justified is being punished." 
MK Ahmad Tibi added: "There is an order in the army that if soldiers arrive at a place where Jews are protesting and one of the protesters jumps the soldiers, they are not allowed to shoot him because he's Jewish. Under the same circumstances, when it's Arabs, they shoot to kill. 'Neutralize,' they call it. That is why a Palestinian is doomed even if he throws a non-lethal stone." 
Things got heated further when Deputy Knesset Speaker Hilik Bar, who presided over the discussion, answered to Tibi: "It's all fine for you to criticize IDF soldiers, but just remember that it's thanks to them that you we can have this discussion here. Just like they're protecting me, they're protecting you too in the jungle of the Middle East."
MKs from the Joint Arab List were enrage and the discussion was stopped for several minutes due to shouting from the MKs.
View original Ynet publication at: http://www.ynetnews.com/articles/0,7340,L-4682333,00.html