Israel's PM Netanyahu & President Rivlin praise the Jewish State's  Search & Rescue team members as they make their way to Nepal to aid trapped Israelis and injured locals.
By Itamar Eichner
Prime Minister Benjamin  spoke Sunday with the head of the Israeli rescue mission to Nepal following a devastating earthquake and wished him luck in their attempt to find the missing Israelis and help with local rescue missions.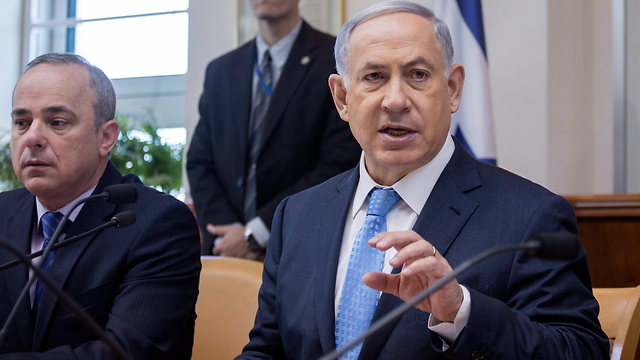 Prime Minister Benjamin Netanyahu – Photo: Olivier Fitoussi, Haaretz
Colonel Yoram Lerdo heads the team, which includes a mobile hospital and is charged with finding Israelis and helping the wounded or stranded.
"You are being sent to an important mission," Netanyahu said. "This is the real face of Israel – a country which does all in its power in such moments. We put our trust in you," he told the delegation commander.
President Reuven Rivlin spoke Sunday evening with Home Front Command chief, Brig. Gen. Yoel Strick, as he prepared to send a team of 260 search and rescue and medical professionals from Israel to the disaster area in Kathmandu, Nepal.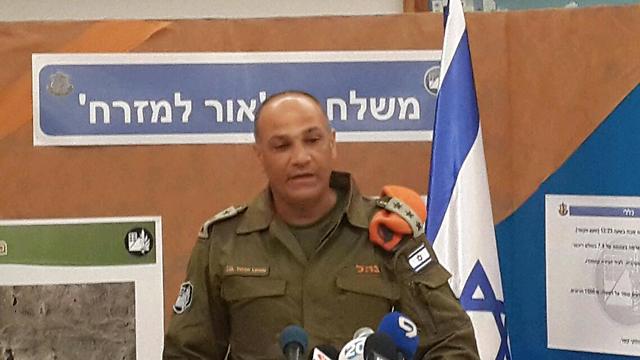 Operation 'Light to the East' head – Colonel Yoram Lerdo – Photo: Roi Yanovski
"My blessings go to all the team undertaking this brave and humanitarian mission. I am proud of you and your staff for their speedy and impressive enlistment at such a time of need. This delegation of 'messenger angels' represents the universal values, in the spirit of our people and our country, and through you, I wish to thank each and every one of them," Rivlin said.
Brg.-Gen. Strick explained that the first plane had already landed at its destination, during the strong aftershock that occurred on Sunday.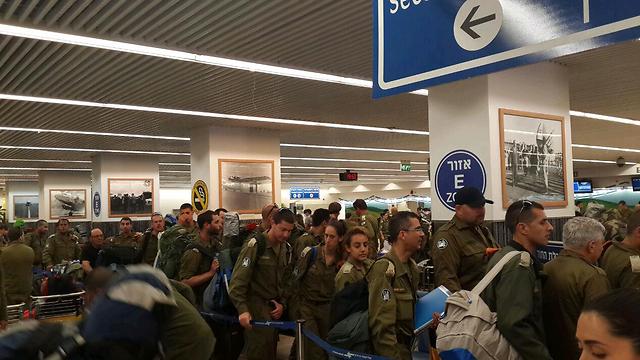 IDF mission takes off – Photo: Roi Yanovski
He told with Rivlin that he had received hundreds of applications from professionals and rescue groups who wanted to be join the aid mission.
He said, "We have set out on a mission that symbolizes all that the IDF stands for, and we are greatly proud of this."
At least 150 Israelis were still out of contact in Nepal on Sunday, down from over 200. An aftershock added to devastation Sunday a day after a massive Himalayan earthquake killed more than 2,500 people, Israeli and foreign authorities said Sunday afternoon.
Some 68 Israelis trekkers were said stranded in the Langtang Valley, Israel's Foreign Ministry said, adding that Israel was working with the Nepalese to send rescue forces to evacuate them. No injuries have been reported among the Israelis. Initially about 600 Israelis were estimated to be in Nepal. Some 450 have been contacted, most of them sheltering at the embassy in Kathmandu. These include 25 couples in Nepal to bring home babies born to surrogate mothers.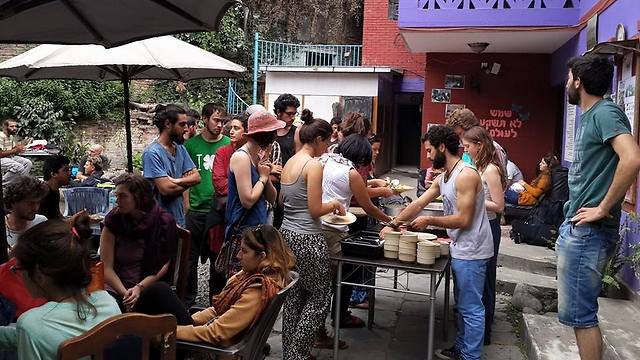 Israelis wait in Kathmandu – Photo: Chabad
Saturday's magnitude 7.8 earthquake spread horror from Kathmandu to small villages and to the slopes of Mount Everest, triggering an avalanche that buried part of the base camp packed with foreign climbers preparing to make their summit attempts. At least 17 people died there and 61 were injured.
The earthquake centered outside Kathmandu, the capital, was the worst to hit the South Asian nation in over 80 years. It destroyed swaths of the oldest neighborhoods of Kathmandu, and was strong enough to be felt all across parts of India, Bangladesh, China's region of Tibet and Pakistan.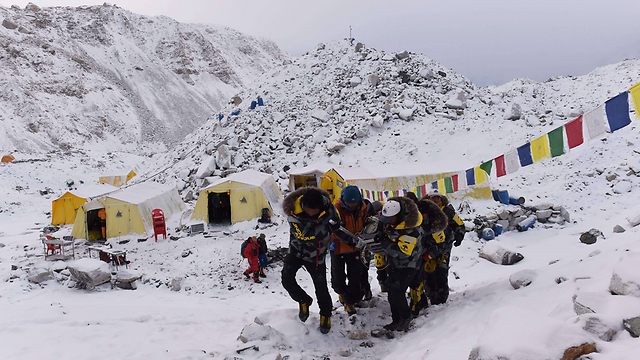 Photo: AFP
By Sunday afternoon, authorities said at least 2,500 people had died in Nepal alone, with 61 more deaths in India and a few in other neighboring countries. At least 721 of them died in Kathmandu alone, and the number of injured nationwide was upward of 5,000. With search and rescue efforts far from over, it was unclear how much the death toll would rise.
Noga Lustig from Kibbutz Geva was in Nepal when the earthquake struck and told Ynet reporter Itay Blumenthal that she and her partner rescued a Nepali from the rubble. "We were just on our way back from a trek in Langtang and we started to feel shaking," she said.
"Ahead of us we saw a motorcyclist who was just swerving all over the road. After we helped a woman stuck under rubble, on the way to the hospital, we saw the whole town in ruins. People wept, screamed for help, there was hysteria. We returned to Kathmandu after three hours, where we found destroyed hotels and downed electric poles." Noga and her partner have been staying at the Israeli embassy, where a small tent city of sorts has been erected.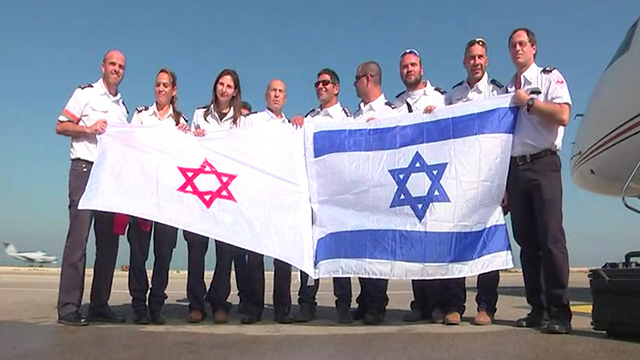 MDA delegation to Nepal – Photo: Yaron Sharon
On Sunday, over a dozen Israeli teams left for the area to assist in efforts, among them a team from the IDF and Israel's Magen David Adom paramedics.
The MDA delegation left Israel for Nepal on Sunday morning to help Israelis caught in the earthquake and assist locals after a powerful earthquake struck the region Saturday. Also on Sunday, some 240 soldiers and officers took off from Israel to Kathmandu to assist search and rescue efforts.
Itay Blumenthal is in Nepal covering events for Ynet.
Roi Yanovski and the Associated Press contributed to this report
View original Ynet publication at: http://www.ynetnews.com/articles/0,7340,L-4650889,00.html