Israel's PM Netanyahu warns of impending danger posed by Islamist terrorists, after 70 Egyptians killed in multiple terror attacks in the Sinai.
By HERB KEINON
Prime Minister Benjamin Netanyahu visited the four Israelis at Hadassah University Medical Center in Jerusalem's Ein Kerem who were injured in two separate terrorist attacks over the last two days, and from near their beds sent condolences to Egypt for the terrorist attacks that rocked that country on Wednesday.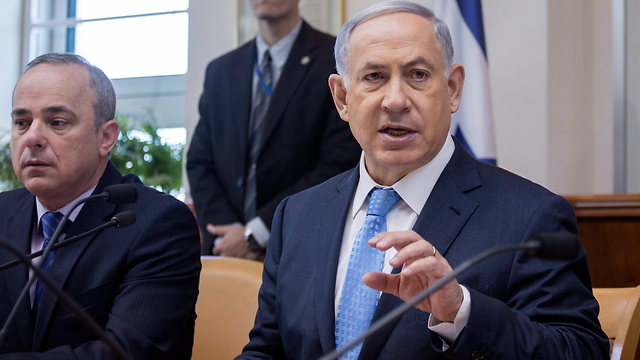 Prime Minister Benjamin Netanyahu – Photo: Olivier Fitoussi, Haaretz
"Terrorism is knocking on our borders," he said. "Islamic State is not only across from the Golan Heights, it is also in Egypt, across from Rafah, in other words across from our borders," he said. "And we are together with Egypt and many other states in the Middle East and the world in the struggle against extreme Islamic terrorism."
While the terrorists have managed to hit inside Israel over the last few days, Netanyahu said that the IDF and the security services have "thwarted more than 200 terrorist attempts from the start of last year." He pledged that Israel would apprehend those responsible for the recent attacks and "extract a heavy price from the terrorists and those who dispatch them and support them."
[KGVID width="480″ height="268″]http://new.israelandstuff.com/wp-content/uploads/2015/07/Netanyahu-We-are-partners-with-Egypt-in-the-fight-against-ISIS-that-has-reached-our-borders-Source-The-Jlem-Post.flv[/KGVID]
Both Netanyahu and Defense Minister Moshe Ya'alon, who joined him on the hospital visit, sent condolences to the parents of Malachi Rosenfeld, who was fatally shot on Monday evening near Shvut Rachel, and who was buried on Wednesday.
The current spate of terrorism is encouraged by Iran, funded by Hamas, and fed by incitement in the Palestinian Authority, Ya'alon said.
"There is Islamic terrorism through the Middle East," he said, "and I want to send my condolences from here to the Egyptian people." He said it was incumbent upon Israel and other states confronting terrorism to cooperate in order to prevent it from "rearing its head. And I believe this is what will happen."
Egyptian security and medical sources said that the death toll in militant attacks in North Sinai on Wednesday has risen to 70, many of them soldiers.
The toll included soldiers and civilians, the sources said.
The onslaught marked a significant escalation in violence in the Sinai Peninsula, located between Israel, the Gaza Strip and the Suez Canal, and raised questions about the government's ability to contain an insurgency that has already killed hundreds of police and soldiers.
It was the second high-profile attack in Egypt this week. On Monday, the prosecutor-general was killed in a car bombing in Cairo.
Islamic State's Egyptian affiliate, Sinai Province, claimed responsibility for the Sinai attacks in a Twitter statement.
[KGVID width="480″ height="268″]http://new.israelandstuff.com/wp-content/uploads/2015/07/Alleged-video-of-todays-Sinai-attacks-surfaces-on-social-media-Source-The-Jlem-Post.flv[/KGVID]
The army said five checkpoints were attacked by about 70 militants and that soldiers had destroyed three landcruisers fitted with anti-aircraft guns.
The fighting, which raged for more than eight hours, was the biggest onslaught yet in the insurgency. One security source put the number of militants at about 300, armed with heavy weapons and anti-aircraft weaponry.
Security sources said the militants had planned to lay siege to the town of Sheik Zuweid, where most of the fighting has been concentrated, by hitting all army checkpoints simultaneously.
"But we have dealt with them and broke the siege on Sheik Zuweid," one of the sources said.
Army F-16 jets and Apache helicopters strafed the region.
Reuters contributed to this report.
View original The Jerusalem Post publication at: http://www.jpost.com/Arab-Israeli-Conflict/Netanyahu-We-are-partners-with-Egypt-in-the-fight-against-ISIS-that-has-reached-our-borders-407711