Electric Corp workers struggle to access electrical wires as 16 inches of snow in Jerusalem area leaves tens of thousands without electricity.
By Noam (Dabul) Dvir
As snow continues to pile up in Jerusalem and northern mountain tops, tens of thousands of Israeli households are still without power. The Israel Electric Corporation (IEC) said 35,000 households across the country are without power as a result of the tough weather conditions.
They include 12,900 in Jerusalem, 7,000 in the north, 2,000 in central and southern Israel and thousands more in the West Bank. The IEC said that it would take a considerable amount of time to restore electricity. Some 2,000 employees are working to repair the malfunctions.
The Defense Ministry and IDF have provided more than 30 heavy vehicles to help clear roads of snow. The vehicles operating in Jerusalem and northern Israel include tractors, bulldozers and armored carriers. The ministry also provided petrol and diesel oil tanks for those without power.
Soldiers provided residents who were snowed in with field rations.
A woman from the settlement of Yitzhar who went into labor was rushed to the Rabin Medical Center in Petah Tikva via a Black Hawk helicopter. The Air Force aided the evacuation effort as access to the settlement was blocked.
Prime Minister Benjamin Netanyahu held a situation assessment with several ministers, the police commissioner, the IDF chief of staff and IEC chairman.
Netanyahu said the main tasks are "saving lives while tracking down elderly who require treatment, opening all routes to those places that are still without power and preparing for floods."
Defense Minister Moshe Ya'alon issued a statement from the Home Front Command's situation room in Latrun and said he found members of the defense establishment, IDF and other rescue forces to be handling the effects of the storm "well."
Ya'alon said there are two main tasks, "To seek people who need help, provide food and heating and evacuate them; and help members of the IEC restore electricity once routes are open."
Responding to criticism at Israeli authorities handling of the storm he said, "There is no room to talk about failure." He nevertheless noted that the "storm took us by surprise in its magnitude and consequences but we were quick in our preparations."
Commenting on the State Comptroller's announcement that he will examine the authorities' handling of the situation, Ya'alon said decisions should not be made "out of fear of inquiry commissions but according to the situation itself."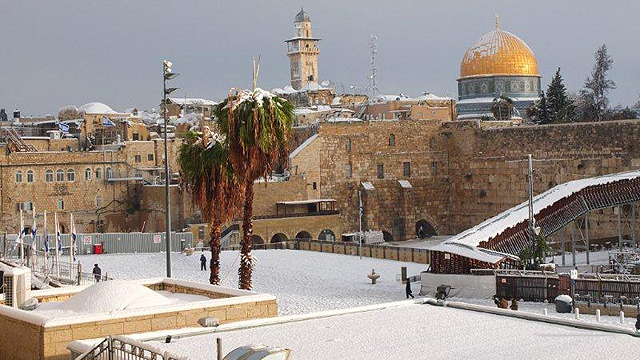 Western Wall in white (Photo: Yair Sagi)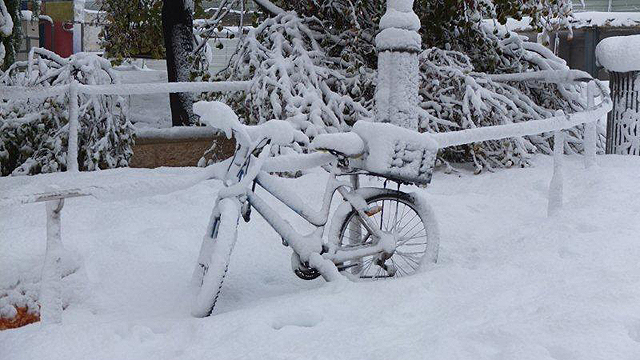 Photo: Yair Sagi
The storm that hit Israel on Thursday has claimed the lives of two people thus far. In Lod, a year-old baby died in a house fire that was likely caused by an electric heater that was left running near the baby's bed. In Rishon Lezion, a 37-year-old man died after falling off a ladder, trying to fix a roof leak.
The toughest challenge facing IEC workers are finding access to dozens of sites across Jerusalem, Safed and the surrounding areas. Many roads and access routes are still blocked due to piling snow and many vehicles were left stranded in main roads. Additionally, countless trees and street lights have collapsed.
Dozens have arrived at the Hadassah Ein Kerem and Mount Scopus hospital in the capital.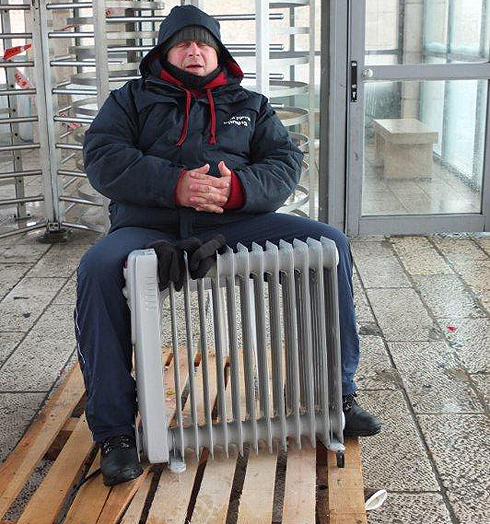 Trying to keep warm (Photo: Yair Sagi)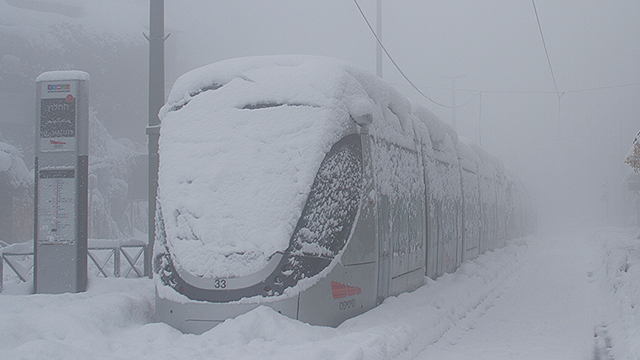 Light Rail (Photo: Ilya Kreins)
Weather forecasts predict that the storm will begin to wind down at around noon, but snow is still expected in Jerusalem, northern mountains and perhaps in the Negev. Jerusalem residents reported that snow has piled up 40 centimeters high. In the Golan Heights, snow levels reached 60 centimeters.
Due to the storm, Israel Railways announced two trains will leave the Malcha station in Jerusalem towards Haifa on Saturday at 11m and 2 pm. They will stop over in Beit Shemesh, Lod, Tel Aviv, Netanya, Binyamina and Haifa.
Raanan Ben-Zur contributed to this report
View original Ynet publication at: http://www.ynetnews.com/articles/0,7340,L-4465149,00.html